Water Line Repairs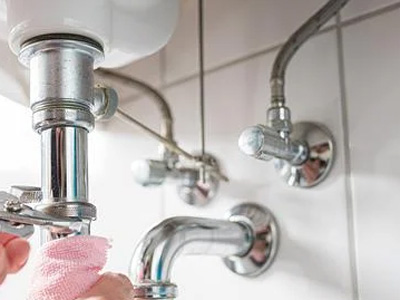 A drastic drop in water pressure is the most obvious way to tell if you need water line repair. Water pooling in the yard or elsewhere on your property, formation of wet areas, or the sound of dripping water are signs that you should call a licensed plumbing company such as Mainstream Services. We have the experience, equipment, licenses, and permits required to fix your plumbing issues in Georgetown, TX, and the surrounding areas. We provide our services to both residential and commercial clients in the region.
Detecting Water Leak
When the water leak involves visible and easily accessible fixtures and connections, detection can be simple. However, if a main water line repair is involved or any other copper water line repair, the signs can be very subtle for you to notice. Some of the common signs that you may have a water line leak can be:
Low water pressure
Sudden increase in water bills
Hot spots on the floor
Rust color in water
Wet areas on your lawn
Noises in pipes
Any kind of water line issue should be fixed immediately. Even a minor leak can grow bigger and require major repair or even replacement. If you notice any of these signs, you should contact us for an inspection. Many times, all it requires is a copper pipe pinhole repair.

We use the latest equipment and technology to locate and identify underground, under-floor, and behind-the-wall water line issues. Our certified and well-trained plumbers and technicians will explain the issue and solution before quoting and beginning the trenchless water line repair process. When we create a solution, we also make recommendations to prevent future leaks and problems. For example, some homes require a pressure regulating valve to ensure the pipes continue working safely.

Whether it involves slab or behind-the-wall leak detection, we have the skills, training, and equipment required for an accurate assessment. Our experience plays an important role in identifying the leak quickly and preventing the need to tear apart your property to find the cause.
Expert Water Line Repair in & around Austin, TX
When it comes to plastic, steel, or copper pipe leak repair, it should be carried out by licensed plumbers. The process requires specialty skills in safe containment, soldering, and meeting local code. Once our technicians pinpoint the location of the leak, we will determine whether a direct repair is an optimal solution. Many times, the most efficient and affordable solution is to replace the damaged section of the line.
Many times, we may recommend water main repair through rerouting or re-piping to create a permanent solution. This allows easy access and maintenance in the future.
Whatever kind of water leak issue you may be facing, our experienced and qualified plumbers can fix them efficiently. We always aim at creating longer lasting and affordable solutions whether it requires main water line repair or a minor water pipe repair. We service homes and businesses in Georgetown, Leander, Round Rock, Austin, Cedar Park, Hutto, Florence, Pflugerville, Liberty Hill, and Taylor. If you have a plumbing issue, call us today at 512-930-9535. You may also send us your queries by filling out this Online Form.