Water Heaters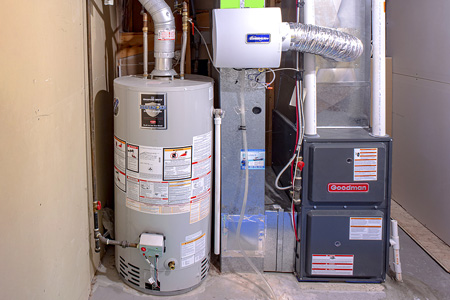 Since water heating accounts for 25% of every energy dollar you spend and is an integral household appliance that provides for you and your family's daily comfort, it is important to ensure that your water heater is functioning properly. Continuous use leads to normal wear and tear, malfunctions, and breakdowns. Whether your water heater needs maintenance, repair, or replacing, our highly-trained technicians can help you with complete, efficient, and cost-effective service on all major brands and types of water heaters, including traditionally tank-based heater as well as tankless heaters.
CALL US TODAY FOR...
annual maintenance
repair
replacement
Common signs that your water heater needs to be serviced or replaced:
You hear weird noises or sounds, like gurgling or popping
Your water is murky or muddy looking
Your water just doesn't seem to be as hot as it once was
You notice leaks or rust around the tanks or fittings
The age of your tank-based water heater is 15 years or older
The age of your tankless water heater is 20 years or older
Our technicians can inspect your water heater and help you determine whether your water heater problem can be reasonably repaired or if a complete replacement is necessary. We will always help you find the most cost-effective solution to meet your water heating needs while providing professional service quickly and efficiently.
Is annual water heater maintenance necessary?
Annual maintenance and inspection by a plumber can help reduce the likelihood of a serious problem with your water heater as a professional will be able to identify and rectify minor issues before they worsen and become major issues. Routine maintenance can also help increase the lifespan of your water heater by reducing the probably of future repairs, and save you money in the long run. To schedule annual maintenance on either your tank-based unit or your tankless system, contact us today!
EVERYTHING YOU NEED TO KNOW ABOUT WATER HEATERS: