Drain Cleaning, Toilet Repairs & Slab Leak Repairs in Leander, TX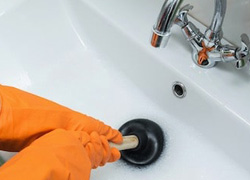 Clean and efficient drains and toilets are a necessity for healthy and comfortable living. Blocked drains, toilet issues, and slab leaks can occur anytime and interfere with your comfort, convenience, and peace of mind. At Mainstream Services, we provide complete plumbing services for such types of issues. We are a fully licensed, insured, and bonded plumbing company with over 30 years of experience in Leander, Texas, and the surrounding areas. Our team of plumbers and technicians is made up of certified professionals with decades of experience.
Drain Cleaning Services
Clogged drains are much more than an inconvenience. They can also be harmful to your health and cause potential property damage. If your plunging efforts do not yield any results, you should call the professionals that can offer you drain cleaning services. We have the experience, skills, and tools required to quickly find the cause of a blockage and clear it without causing further damage to your plumbing or property.
Our experienced plumbing repair experts can unclog:
Main sewer line
Shower drain
Kitchen sink
Toilet
Bathtub
We will begin by snaking the drain line to try and clear it. If the problem continues to persist, we will run an inspection to find any build-ups or root issues.
We can use water jetting as a safe way to clean inside the blocked drains. This involves the use of a strong blast of water to break down any buildup or debris. We use methods and equipment that are gentle on your pipes. This also includes opening and cleaning the drains to restore the drain's function.
Complete Toilet Repairs
When you have a running or leaking toilet, it is best to let our expert plumbers handle it. We provide quality and reliable toilet repair services in Leander that meet your budget and schedule. Whether you have a running, leaking, or cracked toilet, we can handle all types of problems.
Some of the common components that need repair or replacement in your toilet include:
Flappers
Fill valves
Floats
Toilet seals
Flush valves
Handle arms
Chains
Overflow tubes
Even a hissing noise after a flush can be a sign that there is wastage of water, and the toilet may soon stop working. Our qualified plumbers will arrive at your property and offer a quick, reliable, and affordable toilet repair service.
Slab Leak Repairs
Slab leaks can be major problems and are often difficult to detect. These leaks can occur for several months before you are able to notice them. This type of leak occurs in the plumbing under the floor or foundation. If it is left unrepaired, it can damage the foundation.
If you notice the following signs, you should call us for an inspection:
Low water pressure
Unusually high water bills
Warm spots on the floor
Damp floors
Sound of water
Buckling floors
Water heater is always running
Lack of hot water
Certified Plumbers in Leander, TX
Our certified plumbers will arrive at your home or business place to locate the slab leak and fix it quickly and efficiently. We will use the least intrusive method for your slab leak repairs.
If you have any plumbing issues in your home or business place, contact Mainstream Services. You can call us at 512-930-9535 or send us a message using this Online Form.