Gas Lines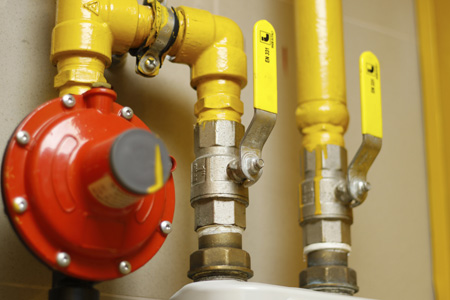 As a homeowner, you know must be knowing that installing or servicing your gas lines calls for licensed plumbers. While natural gas serves as an efficient means to power your appliances, you should keep your infrastructure in good shape. We, at Mainstream Services, specialize in installing and servicing gas lines in your city. Over the years, experienced plumbers working with us have installed both flexible and traditional gas lines. Whether you are installing a fireplace or an outdoor grill, you can count on us. We offer custom solutions for installing gas lines, depending on your specific requirements.
In case you are applying for a natural gas service, we offer flexible gas line installation services. With transparent pricing and quality installations, we can ease up you're cooking and heating requirements.
Gas Pipe Installation Services
The gas piping systems at your home are like the installations in plumbing. As one of the leading plumbing companies in your city, we have been working on all these piping installations over the years. We also have a complete understanding of the regulations related to gas piping.
Being license and certified, we carry out these tasks ensuring optimal safety. This ensures that your systems would function flawlessly, and you won't have the risk of leaks. We carry out both domestic and commercial gas pipe installations.
Gas Line Installation and Servicing For Different Appliances
Our holistic approach to clients ensures that you can benefit from our gas line installation for a wide range of appliances.
BBQs
Gas stoves
Cook Tops
Water Heaters
Pool Heaters
Hot Tub
Fireplaces
Clothes Dryers
Lanterns
Boilers
Remodeling Projects
Furnaces
Gas Pipe Servicing
Timely servicing of your gas lines prevents potential risks arising from leakages. You must be knowing that only professional plumbing companies with permits are entitled to work on these systems. Therefore, you should refrain from trying to fix gas leaks on your own.
In case of leaks, you should dial the emergency number. When you reach out to us, we will identify the leak and fix the issue. Being experienced professionals, we are adept at handling these situations. With our assistance, you can have your gas line in proper health quickly.
Identifying A Potential Gas Leak
As a concerned homeowner, you should be able to identify the signs of a gas leak. In the first place, you should follow up professional services to maintain these pipes. In case the lines suffer any kind of damage, our experts can fix the issue. However, it pays to know the signs of a potential gas leak. In case you detect any of these symptoms at your home, it could point to a leakage.
The smell of rotten egg
Nausea and flu-like symptoms
A whistling or hissing sound
Irregular breathing and difficulty in respiration
Higher gas bills
Your ears would get a ringing sensation
Whether you need gas pipe installation services or repairs, you can reach out to us. At Mainstream Services, we have experienced professionals to address your issues. Call us at 512-930-9535 or fill up this online form for us to get back.