Gas Leak Detection & Repairs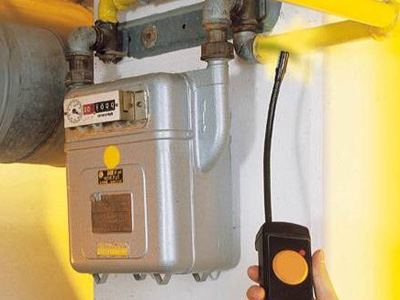 Here at Mainstream Services, we provide professional gas leak detection and repair services for residential and commercial property owners throughout greater Georgetown and Austin, Texas. If you suspect you have a gas leak, it is especially important that you do not try and repair it yourself, since it can be highly dangerous. Call us at (512) 930-9535 and we will be happy to send out one of our professional technicians to take care of it for you!

With such an abundance of natural and propane gas being utilized in most homes and busi-nesses, it is a cost-effective resource widely used for water heaters, furnaces, range tops, stoves and clothes dryers among others. However, we always need to be extremely vigilant and be on the alert for any gas leaks that can result it explosions, fires and may even cause a range of health issues.
Easy Gas Leak Detection
One of the best detectors of a gas leak is your nose. Most gases do not have a distinctive smell, however, a chemical called mercaptan is added by gas service providers that gives gas a very distinctive smell that we can all recognize. If you notice a strange rotten cabbage like, or rotten egg smell, then that is your first sign that you need to contact our expert plumbers for assistance, soon as possible!
What to Do If You Detect a Gas Leak?
If you do detect a gas leak, then do not hesitate to give our team of experienced plumbers a call and we will gladly visit your property to analyze and rectify the issue. In the meantime, try not to ignite any type of spark, since even gas leaks coming from underground can mi-grate to the surface and possibly cause explosions. Here are a few tips:
Do not turn off the gas valve.
Do not smoke, light a match, or use a lighter near the suspected leak.
Do not start any nearby vehicles or machinery.
Do not turn on or off any electrical switches.
Turn off any stove or ovens that are on and open the windows and doors.
Leave the area where you think there may be a leak and stay a safe distance away.
Professional Gas Leak Services
Generally, gas leaks are caused by the natural wear and tear of pipe fittings that can result in leaks in walls, underground, below a structure or through poorly installed and maintained appliances. Here at Mainstream Services, our expert team of plumbers use the latest testing equipment to help detect and repair any gas leaks. Our gas leak detection and repair services include the following:
Gas line inspections
Gas line repairs
Gas line replacement
Preventative maintenance
If you even mildly suspect a gas leak at your home or business, simply give us a call at (512) 930-9535. Do not put yourself or your family at risk, since safety is of paramount importance in these types of tenuous and dangerous situations. One of our qualified plumbing technicians will promptly visit your property to inspect, detect, and repair your gas leak in a safe, effi-cient and affordable manner.