Sewer, Water & Gas Line Repair Services in Round Rock TX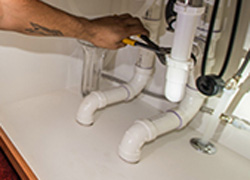 Sewer line, water line, and gas leak repairs are not minor issues. Despite how serious they are, these issues occur commonly on property. If you are in Round Rock, Texas, Mainstream Services can provide quick and reliable repair services to fix any issue with these services. We are a fully licensed and insured, residential and commercial plumbing company that handles all types of plumbing related installation, repair, and replacement jobs in the region. With over 30 years of industry experience and presence, we are a trusted name you can rely on.
Sewer Line Repairs
The job of the sewer line is to move soap, grease, detergent, and water through the plumbing system. Any leaks or damages must be fixed right away. This is important for both your convenience and safety. We can handle all types of sewer line repairs, providing you with the following benefits:
Stopping slow drains
Stopping bad smells
Keeping your family safe from exposure to toxic materials
Preventing a wet yard
Preventing costly repairs
Minor blockages can often be fixed by clearing the lines using specialized cleaning equipment. But we often come across more complex problems. Some of these common issues include the following:
Tree Roots: Roots can grow into the pipe due to water leakages.
PVC Pipes: Improper installation can cause PVC pipe joints and fittings to crack due to ground movement.
Cast Iron Pipe: Ground movement, rusting, and deterioration can cause bottom fall out in cast iron pipes.
Ground Movement: Many areas in Round Rock have unstable soil. Once ground movement causes your sewer pipe to crack, it can be some time before you know about the problem.
We at Mainstream Services can handle all types of sewer line repairs. Besides fixing the issue properly, we will also help you take steps to prevent the problem from occurring again.
Our expert plumbing technicians will conduct a thorough examination of your sewer system before choosing the right repair system or service. Some of the common methods we use include:
Spot repair
Trenchless pipe repair
Tunneling
Trenching
We use specialized sewer camera inspection systems to identify the issue and locate the point.
Water Line Repairs
When your main water line has a leak, you want an experienced plumber to help you fix it. Any leaks should be fixed in time to prevent the line from breaking. No matter how small or big your water line issue is, we have the expertise, experience, and tools required to identify and fix the problem.
Locating a Water Line Leak: Our plumbers use an advanced line leak detection system to find the source of the leak. The system will help us locate underground leaks and find the area where repairs are to be made.
Repairs: A spot repair involves fixing only the part of the water line that has been damaged. Another option is to replace the entire line. We can handle both types of repairs and replacement jobs.
Gas Leak Repairs
Gas lines are crucial for households, as they power a wide range of equipment including water heaters, stoves, and various appliances that keep you comfortable. Gas lines can corrode over time and can crack or break. Our experienced and licensed technicians have the certification and training required to locate, identify, and fix gas leaks.
If you notice the following signs, it is recommended to call the gas leak repair experts for an inspection:
Unexplained surge in gas bills
Pilot light regularly blowing out
Increased incidence of a feeling of dizziness
A blue gas flame
Gas leaks are especially dangerous, as you cannot always smell and detect them. If you think there may be a break in the gas line, you should contact us.

At Mainstream Services, we have over three decades of experience in gas leak repairs. All our technicians undergo regular training to deliver high-quality and reliable services to our clients. We have the expertise and equipment to fix all types of gas leak problems in a timely manner.

If you need more information about our services, feel free to contact us. We service Round Rock, TX and all the surrounding areas. Give us a call at 512-930-9535 or send us a message via this Online Form and we will get back to you at the earliest.