Range of Plumbing Services in Pflugerville, TX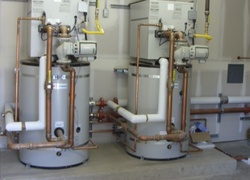 We at Mainstream Services are a licensed, locally operated, and insured plumbing company in Pflugerville, TX. We have provided clients in and around the region with high-quality and customized services for over 30 years. All tasks are completed to the highest standards, ensuring the quality of the work exceeds customer expectations. We go the extra mile to develop relationships with our residential and commercial clients.
You might need to hire the services of licensed professionals for newer plumbing installations or repair work on your property. We provide commercial and residential clients with a wide range of services. With over 30 years of industry experience, we are a locally operated plumbing provider in Pflugerville, TX. Our team consists of highly skilled, experienced, licensed operators capable of tackling various plumbing installations, inspection, repair, and maintenance.
General Plumbing Services
We can carry out a range of standard plumbing services, regardless of the scale of the project. Here's a list of a few services we offer:


Leaking Lines and Repairs – Our team can tackle large and complex projects. Tasks like sewer line repairs or slab leaks are complicated to deal with. However, with our extensive knowledge and years of experience, we are more than capable of managing such jobs efficiently.
Re-plumbing or Remodeling - If you're remodeling your kitchen or bathroom, adding a new bathroom or wet bar, or expanding one, you'll need experienced plumbers. We can help you make your home livable.
Drain Blocks, Leaking Pipes & Installations – Our team can expertly clear out blocked drains, install sinks, toilets, gas lines, and water heaters, as well as fix leaking pipes.
We provide homeowners, business owners, and HOAs with superior plumbing solutions in and around the region.
Residential Plumbing Services
Our residential plumbing solutions range from standard repairs to complete plumbing installations and routine maintenance. Here's a list of a few benefits we provide properties in the region:


Save On Water Bills – You can save a considerable amount on your water bills by carrying out routine maintenance and on-time repairs. Sink leaks, running toilets, pipe leaks, and dripping faucets are just a few issues resulting in water wastage. Our receptive and amiable team can quickly fix these issues, saving you money in the process.
Professional Installations – We offer clients professional plumbing installations, including bathtub, water heaters, new toilet, gas lines, sink, and many more. If it's a new fixture you need installed in your bathroom or kitchen, you can trust our team will carry this out efficiently and professionally.
Besides, we also provide comprehensive water heater repair, replacement, installation, and routine maintenance for both tank and tankless systems. All sewer inspection services are carried out using advanced, high-resolution sewer camera systems.
Commercial Plumbing Services
Businesses require a plumbing operator that provides prompt services to ensure everything is operating smoothly. Commercial plumbing systems are more susceptible to breakdowns due to their higher wear and tear level, making it crucial to carry out timely repairs. Here are a few of the most common plumbing services for commercial properties:


Unclogging drains
Toilet installation and repair
Building salt-free water filtration and conditioning
Sewer inspections using advanced camera technology
Installation and repairs of faucets
Slab leak detection and repair
Installation, replacement, maintenance, and repairs of all water heater systems
Gas line installation
We cater to the needs of all commercial buildings in and around the region. The 3500-psi jetting service for clearing out commercial drains is one of the most effective solutions. For more information on residential or commercial plumbing services, get in touch with Mainstream Services at 512-930-9535 or fill in this Online Form, and we will get back to you shortly.