RESIDENTIAL PLUMBING SERVICES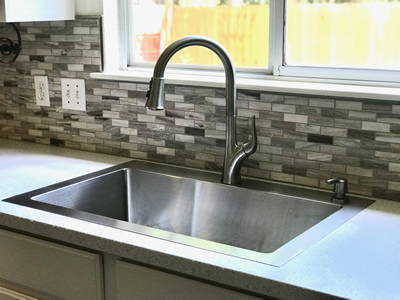 Mainstream Services is your professional, local plumbing company. We understand that a problem with your plumbing can happen at any time, day or night, and Mainstream Services is here to help. Whether it is a nagging faucet drip, major water leak, or you just want to upgrade your fixtures, no problem is too small or too big for our team of professionals.

Our Residential Plumbing Services include:
Unclogging Drains
Faucet Install and Repair.
Water Heater Repair, Replacement, Maintenance, and Installation - Tank and Tankless.
Slab Leak Detection and Repair.
Whole House Salt-Free Water Filtration and Conditioning.
Water and Sewer Line Repair, Cleaning and Replacement.
Gas Line Installation.
Sewer Camera with Digital Recording.
And much more...
As a reliable, committed, and experienced company, we at Mainstream Services understand that you may need different plumbing services at different times and would not want to approach different service providers for these requirements. That is why we offer various services under a single roof, offering our clients convenience and value. You will find that no matter when you call us with your residential plumbing needs, we are here to help.


Customized Residential Plumbing Services
Our team is knowledgeable and professional and over the years, we have handled projects of various types. Regardless of the scale and scope of the work, we offer high quality services at affordable plumbing costs. We take the time to discuss your requirements and provide you with all the details you need about different types of plumbing fixtures and fittings.

This comprehensive approach helps to ensure that you have all the information needed before you make your decision. In addition to new installations, we handle plumbing upgrades and manage these projects during renovations and remodels. We work with commercial clients with a high level of efficiency. Our company uses the best quality products and top-notch workmanship.

We use the latest leak detection equipment and plumbing tools, allowing our professional residential plumbers to work efficiently and quickly. They are well trained and qualified and can troubleshoot various plumbing issues like slab leak location & repairs in a timely and safe manner. We work with individual homeowners and architects or designers as well offering customized services based on client requirements.


Why Hire Us?
As you can see, we offer all-round residential plumbing solutions and make sure that you are 100% satisfied with our services. There are several reasons to hire us such as:
We are a fully licensed and insured professional plumbing company
We have over 30 years of experience in the industry
We are local to your area and cater to clients in and around Georgetown, Texas
Handle installation, repairs, replacement, and service of all types of plumbing systems
Professional and experienced team of seasoned plumbers
Use best grade materials and workmanship in every task
Focus on 100% customer satisfaction
Offer customized and personalized services to all clients
Cover all our work with guarantees
Maintain cost-effective pricing
For any more information regarding our expert residential plumbing services, feel free to drop us a line via this Contact Us form. You can also call Mainstream Services at this number - 512-930-9535 and one of our team members will call you shortly to discuss your requirements.