Plumbing Services in Georgetown, TX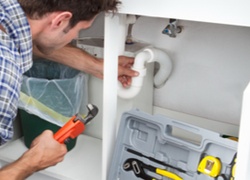 New plumbing installations or plumbing repair works in your home or place of business will require professional services. We at Mainstream Services provide comprehensive plumbing services for both residential and commercial clients in Georgetown, Texas, and the surrounding areas. We are a locally owned general plumbing services provider with over 30 years of experience. Our crew comprises experienced, licensed, and professional plumbers who can handle all types of plumbing installation, repair, service, and inspection services.
General Plumbing Services
We handle all types of general plumbing services in Georgetown, TX, and the surrounding areas. There is no project that is too big or too small for us.
Leaking Lines & Repairs: We excel at handling big and complex plumbing jobs. Slab leak and sewer line repairs are complicated jobs, and we have decades of experience in handling them with professionalism.
Re-plumbing or Remodeling: You may want to remodel your kitchen or bathroom, install a new bathroom or a wet bar, or add on and need expert plumbing services. We can make your home a more livable space.
Leaking Pipes, Drain Blocks & Installations: We clear blocked drains, fix leaking pipes, install toilets, sinks, water heaters, gas lines, and more.
We provide general plumbing services to homeowners, business owners, and HOAs throughout the region.
Residential Plumbing Services
Our residential plumbing services cover everything from basic repairs to a full range of plumbing installations and regular maintenance. Some of the key benefits we bring to homeowners in the region include:
Saving Water Bills: Our routine plumbing maintenance services and timely repairs can help you save on water bills. Pipe leaks, sink leaks, dripping faucets, running toilets, and other plumbing issues can cause significant wastage of water. Our responsive and friendly team can fix issues quickly to help you save money.
Expert Installations: We offer expert plumbing installation services. This includes a new toilet, sink, bathtub, shower, water heater, gas lines, and much more. Whether you want to install a new fixture for your kitchen or bathroom in your Georgetown home, you can trust us for our professional and reliable services.
We provide complete water heater installation, repair, replacement, and maintenance services for both tank and tankless systems. Advanced sewer camera systems are used for sewer inspection and cleaning services.
Commercial Plumbing Services
When it comes to your business, you need a plumbing company that can provide quick response and ensure the smooth running of your plumbing systems. Commercial systems are likely to break down faster due to the increased level of wear and tear on them.
Some of the common commercial plumbing services that we offer in Georgetown are as follows:
Installing and repairing faucets
Unclogging drains
Slab leak detection and repair
Toilet installation and repair
Installing, repairing, replacing, and maintaining water heater systems
Building salt-free water filtration and conditioning
Gas line installation
Sewer inspection using latest camera technology
We serve all types of commercial offices and organizations in the region. Our 3500-psi jetting service is one of the most powerful services for clearing commercial drains.
At Mainstream Services, we will take care of your property hand providing our services. Our team will arrive uniformed and in fully equipped company-marked vans. We are courteous, professional, and take our work seriously. If you need more information about our services, feel free to contact us today at 512-930-9535 or write to us using this Online Form.