Garbage Disposal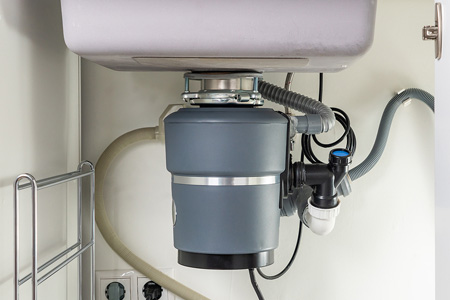 A malfunctioning garbage disposal system at your home can land you in a mess. The leaking fluids and terrible odor can make life unbearable for your family. In case you are concerned with your garbage disposal, make sure to hire a professional to fix things up. A professional hand has no alternative when it comes to garbage disposal. Particularly, if you need a new garbage disposal to be installed or repair the existing one, expert assistance from our end would help. At Mainstream Services, Inc, we deliver standard services to our clients, repairing and installing garbage disposal systems. You may reach out to us for a dedicated assistance any time you want.
Common Issues In Your Garbage Disposal
We encounter different situations while delivering service to our clients. Some of the most common issues that you might face in your garbage disposal include:
Slugging drainage of water through the garbage disposal
Leaking disposal
Malfunctioning disposal
Noisy disposal
The garbage disposal refuses to start
Foul smell emitting from the disposal
When you crush food items, make sure to trickle down some cold water into the disposal. This would help in setting the grease that you have dumped in. In the process, the system would be able to chop it up easily. To prevent malfunction in your garbage disposal, make sure to use it regularly.
Leaking Garbage Disposals? You Need To Fix It Fast
A leaking garbage disposal can quickly turn your home messy. Once you reach out to the professionals for garbage disposal repair, our experts will fix the issue. At the outset, we detect the leak and work on the cracks. Your disposal might develop cracks due to several reasons. Some of these include:
Loose pipes
Seal wear and tear
Cracks in the body of the garbage disposal
Gaskets or flanges that might have split after drying out
In some disposers, you also have the self-cleaning feature for dishwashers. This spot may develop leaks.
Unless the interior lining or entire body of the disposal develops a crack, you can get it fixed. However, we might recommend you replace the same when it is entirely damaged. With us, you have expertise and industry experience at your disposal. We can help you identify the parts that are weak and are likely to break.
Our Approach To Repairing Garbage Disposals
In case we detect a leak from the side of your garbage disposal, the issue probably lies in the drain line. In these cases, our experts reseal the connection between the drain line and the disposal.
However, the disposal may leak from the top at times. This implies that you have a loose connection somewhere around the screws. Besides, the connection might be loose around the plumber's putty where the sink gets connected to the garbage disposal. In these cases, we replace the connection with new putty or screws by detaching certain sink pipes and the disposal.
Reach out to Mainstream Services, Inc, at 512-930-9535 or fill up this contact form for an appointment. We provide upfront quotes to our clients and remain transparent with pricing.