Drain Cleaning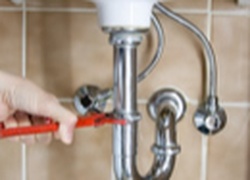 Having a clogged drain can be a frustrating experience. No matter how much drain cleaner you use, the clog stays. If you are having a tough time with one or more clogged drains in the greater Austin area, Mainstream Services can provide quick and efficient solutions. We are a fully licensed and insured plumbing company in Georgetown, TX. With over three decades of experience, there is no plumbing issue that we have not resolved. We are a locally owned and operated company. Our drain cleaning services are competitively priced, and our professional and courteous team is certified, well-trained, and experienced.
No more Clogged Drains
A clogged drain can bring your everyday routine to a halt. It can prevent you and your family from using sinks, toilets, tubs, or showers. If you have frequent or repetitive clogs, it can mean there is a larger issue that needs to be professionally fixed. A clog in the main sewer line is a common problem that causes frequent clogs.
When it comes to draining cleaning, you can rely on the experience, skills, and resources of our expert plumbers. All our plumbers and technicians undergo regular training. While our experience allows us to diagnose and fix the most common types of plumbing issues, it is our training that gives us the edge in identifying problems with newer types of systems and materials in the industry. Besides, the training also equips our team with the knowledge of the latest tools, designs, and products.
When you call us, you can have peace of mind in the knowledge that our technicians will arrive on time and will create a solution for your problem. All our work is backed by extended warranties on labor and parts.
Finding the Underlying Cause
The following signs should indicate that there is a clogged drain, and you should call for our plumbing services:
Slowly Draining Sink or Bathtub: This happens when a thickening layer of soap and grime builds up in the pipe.
Gurgling Drains: Typically, a gurgling sound is a sign of air trapped inside the plumbing. The underlying cause is a buildup in the drain.
Stinking Odor: If you notice a persistent unpleasant odor, it can be a sign of a slow drain. When checked and fixed in time, it can prevent a full-fledged clog.
Toilet Backing Up: Toilet paper is the most common cause of a toilet that backs up. We often come across sanitary products and toys that block toilets. If your toilet backs up, call us immediately to prevent any damage to the pipeline and bathroom.
Water on the Lawn: If a puddle builds up in your lawn get it checked by the experts. Trees and foliage growing near or around water lines or sewer lines can cause damage, leading to leakage.
What if the Kitchen Sink Clogs?
Kitchen sink clogs are the most common drain clog service calls that we receive. This is because this drain piping gets a lot of grease buildup. The drain cleaning process will involve our plumber pulling the piping apart and running a cable with a sink auger to remove the clog. If the clog is tougher, we will suggest a full line flush using our hydro-jetting system.
Hydro-Jetting Service for Mainline Clogs
When it comes to complex and challenging drain clogs, the mainline clog is the most difficult one. If it is not fixed in time, it can cause serious water sewage damage. If we identify this issue on your property, we can suggest a rooter or hydro-jetting service.
So, if you have any kind of drain clogs in your home or place of business, give us a call at 512-930-9535. We provide drain cleaning and other plumbing services all over the greater Austin area. You may also send us your queries from our Contact Us page and one of our technicians will call you back.