Plumbing Services in Taylor, TX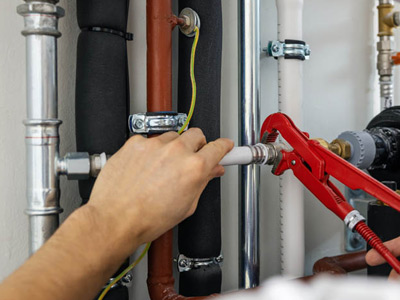 Mainstream Services provides superior residential and commercial plumbing services in Taylor, TX. We pride ourselves on delivering high-quality, reliable, cost-effective solutions for all your plumbing needs. With our team of skilled professionals and commitment to customer satisfaction, we guarantee exceptional service every time.


Types of Residential Plumbing Services
We offer a comprehensive range of residential plumbing services to ensure your home's plumbing system operates smoothly. Our services include:


Plumbing Installations for New Homes: We specialize in installing efficient water supply systems, drainage systems, fixtures, and appliances to meet your specific requirements.


Plumbing Repairs and Troubleshooting: Our experienced plumbers can quickly identify and resolve common issues such as leaky faucets, pipes, clogged drains, toilets, and water heater problems.


Bathroom and Kitchen Plumbing: We provide expert installations of sinks, showers, bathtubs, toilets, and garbage disposals, ensuring optimal functionality and convenience.


Sewer and Septic System Services: From sewer line repairs and replacements to septic tank pumping and drain cleaning, we offer comprehensive solutions to maintain the integrity of your sewage system.
Types of Commercial Plumbing Services
We are also well-equipped to handle commercial plumbing needs for various businesses in Taylor, TX. Our commercial plumbing services include:


Plumbing Installations for Commercial Properties: We specialize in installing plumbing systems in office buildings, retail stores, restaurants, industrial facilities, and warehouses tailored to meet the specific demands of your business.


Plumbing Maintenance and Inspections: Our team conducts regular plumbing system check-ups, implements preventive maintenance plans, and ensures compliance with commercial building codes to prevent costly disruptions.


Commercial Plumbing Repairs and Upgrades: We provide timely repairs and upgrades for pipes, fixtures, appliances, and backflow prevention systems, ensuring the smooth operation of your business.


Gas Plumbing Services: Our licensed professionals handle gas pipe installations, repairs, leak detection, and maintenance for commercial properties, ensuring safety and compliance with regulations.
Residential and Commercial Plumbing Maintenance and Repairs
In addition to new installations and upgrades, we also offer comprehensive plumbing maintenance and repair services to safeguard your residential or commercial property, such as:


Regular Plumbing Maintenance: Our experts thoroughly inspect pipes, fixtures, and appliances, check water pressure, and assess water quality to identify potential issues before they become significant problems.


Emergency Plumbing Services: We understand that plumbing emergencies can occur anytime. That's why we offer 24/7 availability, prompt response, and quick repairs to minimize damage and restore functionality.


Plumbing System Upgrades and Replacements: Our team specializes in aging pipe replacements, fixture and appliance upgrades for improved efficiency, and water heater installations and repairs to enhance comfort and energy savings.
Why Choose Us for Plumbing Services?
There are several reasons to hire us for all your plumbing requirements, such as:


Highly Trained and Experienced Plumbers - Our team consists of skilled professionals with extensive knowledge and expertise in the plumbing industry.


Quality Materials and Equipment - We use top-grade and advanced equipment to ensure long-lasting solutions and reliable performance.


Prompt and Reliable Service - We value your time. We arrive on schedule, complete projects efficiently, and strive to exceed your expectations.


Competitive Pricing and Transparent Quotes - We offer competitive rates for our services and provide transparent quotes, ensuring you understand the costs involved upfront.


Customer Satisfaction Guarantee - Your satisfaction is our top priority. We go the extra mile to ensure you are delighted with our services.

We are the company to call for all your plumbing requirements in Taylor, TX. For additional details, don't hesitate to contact Mainstream Services at 512-930-9535 or fill in this Contact Us form, and we will get back to you shortly.