When Do You Need a Professional Plumber?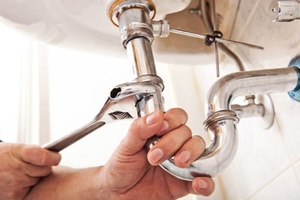 At Mainstream Services Inc., we are a locally owned business that has been serving the local community with utmost dedication. In this guide, we would like to share information about 5 situations when you should call a professional plumber for the job.


Broken Water Lines
A broken water line can be a big issue, especially if it happens at night. If you have old and rusty water lines, they can break down anytime. It can cause water to flow uncontrollably, damaging your belongings. If this happens, you should immediately call a licensed plumber. Plumbers can also have the pipes checked on a regular basis to prevent them from breaking.


Clogged Drains & Pipes
Grease, hair, scum, and other residue can build-up inside different types of drains in your home and can clog them. This issue can arise anytime, and it is best to get the help of experienced plumbers. Instead of dealing with clogging problems yourself, it is important to seek professional drain cleaning services.

Clogs occur commonly, and can affect:


If you are unable to unclog them using a plunger, you should call experienced plumbers. If a clog keeps backing up regularly, again you should seek professional help. Experts have advanced tools such as cameras that can help identify the causes of long-term clogging issues. If you have repeat drain issues, you should not take them lightly. It should be fixed as early as possible to prevent the underlying problem from becoming more complicated.


Leaky Toilets
If your tank will not stop refilling, it will need professional service. Else, you could be looking at a big water bill. The most common cause is a damaged seal that connects the bowl and the tank. Plumbers can immediately fix the issue and prevent any rise in your bill.

Leaky faucets and fixtures are also quite common. Most people ignore small leaks because they don't seem to cause any major inconvenience. Regular drips should not be taken lightly.


Rusting faucets & fixtures
Loosening of flooring or tiles
Rot

Smaller leakages should be fixed the moment you notice them. This can help prevent major and expensive repairs.


Water Heater Repairs
Is your water heater giving you issues? Does it take too long to get hot water? This can mean that you are no longer able to do the dishes or take regular showers. The most common causes include:


A faulty water tank
Water heater takes too long to warm up

An experienced and certified plumber will conduct a thorough inspection of the heating system and water tank. Components may have worn out and become old and may not be working properly.


Gas Line Installations
Gas line installation is a job that is best left to the experts. A qualified plumber can handle installation, maintenance, and repair jobs for your home's gas line. There are many reasons why it should be handled professionally:


Safety: Safety is of utmost importance when dealing with natural gas. From installation to regular operation, you can have peace of mind that the job was handled by an expert. You will not have to worry about any faults in the gas system's installation.
Regulatory Requirements: Many jurisdictions have codes and laws that make it mandatory to install gas lines through a licensed plumber.
Expertise: Do you know that gas lines are not much different from water or sewage plumbing. A professional will not only know which pipes are meant for which utility, but they also know the safe and effective materials for each project.

So, you should call a professional plumber when you have these repair or installation requirements in your home. At Mainstream Services, we bring over three decades of industry experience and in-depth knowledge and skills to each project we handle. We serve clients throughout the greater Austin area. We are a fully licensed and insured company. If you want to learn more about our services, feel free to call us at 512-930-9535 or write to us using this Online Form.