Top 5 Commercial Plumbing Services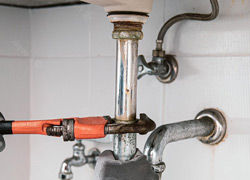 Business owners need well-maintained plumbing systems as their employees and customers always deserve clean and practical restrooms. Mainstream Services Inc. provides clients with a range of plumbing solutions.

Here are common commercial plumbing services which cover a wide range of tasks.


Faucet Leaks
Leaky faucets have cascading consequences such as increased energy costs. The water accumulation on your floor might cause slip and fall accidents on your property. Leaking taps can potentially cause water damage and underlying problems in a structure. Even worse, the leakages can foster impurities that degrade the air quality within your property.


Drain Clogs
Drain blockages are typical in commercial properties due to the high volume of toilet usage. Debris and other particles obstruct the drains, leading to delayed water discharge. As no one like to clean their hands at a sink with a sluggish drain, clogged drains might deter clients or customers.

Sinks in your business breakroom or kitchen might also become clogged due to the presence of food particles. Due to the blockage, some employees may not wash their hands, lowering your workforce's health standards. We provide commercial drain cleaning services.


Sewer Smells
On your property, clogged sewage or septic lines emit sewer odor. The stench might rise from the drains, rendering restrooms intolerable. Unclogging the sewage system is essential for proper and efficient drainage.


Running Toilets
Due to water waste, running toilets contribute to high water bills. A flapper typically causes a leaking toilet with a compromised seal. You may have a broken float ball/ballcock that is not entirely shutting.


Reduced Water Pressure
Leaky pipes are the primary reason for low water pressure. Leaks can also reduce water pressure in the pipe. If your water rates are skyrocketing, your pipelines are in poor shape. The most effective solution is to have a plumber search for leaking sites, seal them, and, if required, replace sure pipes.


Maintenance of Commercial Plumbing Systems
How can a business plumber do maintenance on all these system components? They will evaluate your system annually and perform preventative maintenance to achieve this. During these service visits, the plumber verifies the functionality of the above installations and more. This prevents minor issues from becoming more extensive and expensive.


Why You Require a Qualified Commercial Plumber
When you see faucets, toilets, and drains mentioned in the list, you may believe that residential plumbers can handle your business's plumbing needs. However, this is not true. Commercial plumbing is far more complex than residential plumbing, although the fundamental ideas and tasks are the same.

Commercial plumbing installations have a much higher water use and demand than residential pipework. They are also considerably more intricate than the latter. Most household plumbers do not use specialist equipment or obtain licenses and certificates, as do commercial plumbers.

For information about our commercial plumbing services, contact Mainstream Services Inc. at 512-930-9535 or write to us through this Online Form. One of our experts will contact you soon to discuss your specific requirements.