Tips for Hiring a Plumber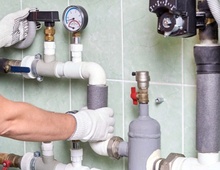 When you want any commercial or residential plumbing work done, you need to be sure that the professional you hire would be able to provide you with high-quality services at competitive pricing. When you start looking online for a local plumbing professional, you will find many service providers.

This fact might have you believe that it won't be too challenging to find a plumber to handle your job. However, you must consider several aspects before selecting one that can provide you value and top-notch service. At Mainstream, we have seasoned professionals that offer the best plumbing and other services. They can handle a variety of home improvement and maintenance tasks.


Things to Consider While Hiring a Plumber
When you have a reliable and skilled plumber handling new installation, repair, or maintenance tasks, you must deal with fewer repeat problems. Here are some helpful tips for hiring a plumber:


Company History
One of the first things to check is the company history. Most plumbing companies will have a website, and you should be able to find information related to the company, how long it has been in business and the types of jobs they handle. This check is crucial as it will help you determine whether the plumbers are experienced and skilled enough to tackle your plumbing requirement.


Company Reputation
Just as it is vital to check the company's history, you also need to check its reputation. Professionals that provide high-quality services will have built a solid reputation in the field. Most companies post customer testimonials on their website, and these should give you some idea about the operator's standing in the market.


Project Examples
While customer testimonials will give you some idea about the company's quality of plumbing services, you also need some firsthand confirmation of this. The best way to be sure is to call the company and request them for customer references. You should make it a point to contact at least a few of their previous customers to determine whether the company provides quality services. A credible company that does good work will always be eager to provide references, and if they hesitate to do so, this should be a red flag for you.


Customer Reviews
Another great way to determine the service quality of a local plumbing company is to read online reviews. Opt for a company that has an average of four or five-star ratings. When reading these reviews, keep in mind that some customers may give a company a poor rating. Find out how the company responded to a poor review and whether they ultimately resolved the customer's issue. If they did, it indicates that the company is serious about what it does.


Responsiveness
Plumbing problems have a way of cropping unexpectedly. When you are faced with a plumbing emergency, you need to be sure that a skilled and licensed plumber is just a phone call away. This aspect makes it necessary to look for a provider that offers 24/7 services. Many companies advertise that they provide night and day service, but you must check their responsiveness before you need their services urgently.

To do this, you can request a basic plumbing service and check their responsiveness. If they are quick and proactive with providing solutions, you can rely on them to offer you assistance when you need them.

If you follow these tips, you will be able to identify a reliable, licensed plumber in your local area. At Mainstream, we provide a range of services, including residential and commercial plumbing. For more information regarding our services, please call us at 905-934-3924. If you have any queries, you can also send us a message through this Contact Us form, and we will call you shortly.