Benefits of Tankless Water Heaters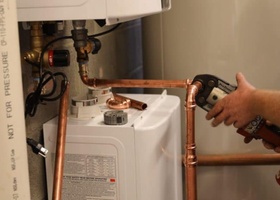 Tankless water heaters, commonly also known as instant water heaters, have many advantages over traditional heaters and are an excellent long-term investment. These kinds of water heaters only consume energy when you turn on your hot water faucet or when you're using appliances, unlike traditional heaters that continuously require energy for hot water supply.

At Mainstream Services LLC, we provide the best and most efficient tankless water heater installation services. Our team will provide you with all the information you need about the different tankless water heater products. This approach helps you decide the water heater that will work best for your needs.


Heat Water Instantly
These tankless water heaters are capable of heating water without a storage tank. Once you turn on your hot water faucet, the cold water flows right through the heat exchanger present in the unit. The water heats either by a natural gas burner or an electric element. This results in a constant flow of hot water, which is why you no longer must wait until the storage tank is full of hot water.


Supplement Hot Water Tanks
Some larger properties or homes with extensions and additions can benefit from tankless water heater installations. They are great ways to supplement hot water tank installations on the premises. Other applications for demand water heaters include hot tubs, remote bathrooms, boosters for appliances, such as clothes washers/dishwashers, and a booster for modern solar water heating systems.

These types of water heaters have a fixed flow rate, which means that they're capable of heating only a specific amount of water at any given time. In case you have five showers running simultaneously, most tankless heaters might not keep up. However, as these heaters have an endless supply of hot water, it is an ideal fit for a household with more members.


Heats Water More Efficiently
A standard tank-style heater consumes energy throughout the day to maintain the temperature of a 50-gallon water supply, to ensure that's it ready when you need it. If your house uses less than 40 gallons of water daily, you can opt for demand water heaters as they are roughly 23% to 34% more energy efficient than traditional storage-tank water heaters. They are also around 8% to 14% more energy efficient for houses with higher daily consumption.

You can also achieve higher energy savings by installing a demand hot water heater at every hot water faucet. It starts as soon as you turn on the tap and supplies continuous hot water. This way, you get hot water when you want without wasting any energy to heat water that's just going to lie in your heater when it's not in use.


Long-Term Savings
While the upfront costs of tankless heaters are marginally higher than traditional ones, as they require special venting, additional circuits, and larger gas lines, you end up saving roughly 30% on a water heating bill in the long run. Besides, the life expectancy of these water heaters is around 15-20 years based on usage, making it a cost-efficient investment for most households.


Low-Cost Investment
Most of these heaters are priced considerably lower than storage water heaters, making them an ideal option for those on a budget. Besides their durability, the parts on these heaters can easily be replaced, in turn, extending their life by several years. On the other hand, storage water heaters last anywhere between 10-15 years.

For more information about our commercial and residential plumbing services, please call Mainstream Services Inc. at 512-930-9535 or complete the form on this page to send us your queries or requests.