5 Plumbing Leak Detection Tips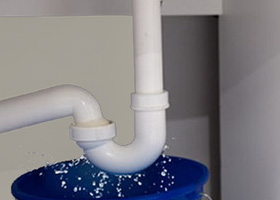 Water and gas leaks are hazardous, and you must address them right away. While gas leaks can undoubtedly cause more harm, water leaks, if left unattended, can slowly escalate, and result in severe damage to your property. Besides that, it also causes water waste and higher water bills. We at Mainstream Services INC provide clients with high-quality water and gas leak detection services to clients in and around Georgetown, TX.


Gas Line Leak Detection
In addition to impacting your health, gas leaks are also a significant fire hazard. Always contact a licensed plumber as soon as you suspect there's a leak in your house. Keep in mind that general plumbers do not have the knowledge or expertise to tackle gas-related issues, making it crucial to get in touch with a professional specializing in these tasks. They have the skill to complete the job promptly and safely.

These experts use the latest leak detection equipment for all jobs, significantly improving accuracy. The detailed and thorough inspection they carry out helps identify the exact location of the leak. That's not all, as the team will inspect all adjacent pipes and other installations for potential leaks, carrying out the necessary repairs as required.


Water Pipe Leak Detection
Even the most durable and reliable plumbing systems can start leaking without prior syndications. Most of these systems are located behind walls and underground, making it incredibly challenging to notice them. Annual inspections and the proper fixes will prevent these leakages from getting out of hand.

While the precise location of the leak may not necessarily be visible, the licensed plumbers will use moisture detection equipment to figure out the root cause of the issue. This helps with accuracy, allowing them to carry out the task without causing any damage to other areas of your property.


Toilet Leak Detection
Although several other leak detection methods exist, the tracer dye method is still highly reliable. Professional plumbers widely use it for sewer line leak testing. This process involves using a concentrated leak inspection dye that rapidly dissolves in water. It then provides a fluorescent color that's detectable in water, sewage, and effluent. The plumbers then locate the exact location of the leak. Once they complete this, they will provide you with the most cost-effective solution to remedy the issue, minimizing damage to your property.


Water Heater Leak Detection
Water leakages in any part of your property can get quite severe if left unattended. If you notice a leak in your water heater system, get in touch with your local plumber right away. They will carry out a thorough inspection and fix it promptly. In case there's water flowing from the pressure release valve located at the top of your heater, it indicates that there's a fault in the valve and requires immediate replacement.

Leakages that occur at the tank base require a detailed inspection to determine whether the entire unit must be replaced, or minor repairs will work just fine. If you have an electric water heater on your property, you need to be cautious and turn off the power before touching it.


Sewer Line Leak Detection
Sewer lines are a critical element of your property's running water system. If it develops an issue, it can impact all water functions in your house, including toilet use, bathing, and washing, resulting in significant damage to your property if left unchecked. If you have noticed slow drainage, wetness around the sewer line's outer path, or have detected a foul odor, call in a professional plumber for sewer line leak detection immediately.

For information about our plumbing leak detection and other services, please call Mainstream Services Inc. at 512-930-9535. You can also send us your queries via this Online Form, and one of our team members will contact you shortly to discuss your requirements.